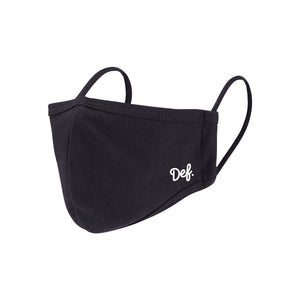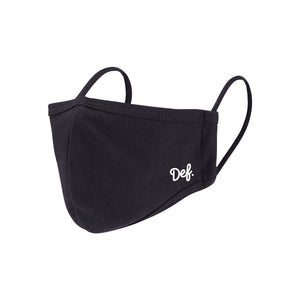 On Sale
Def Mini Sig Face Mask - Black
$16.00
Sale price
-

$12.00
Regular price
$4.00
Core Collection.
- 2 layer reusable, fully washable non-medical mask
- Protect yourself and reduce landfill by wearing a reusable mask.
- Poly/cotton fabric
- Front graphic print

DISCLAIMER:
Cloth Fashion Face Covering Only. This mask is solely for use by the general public to cover the user's mouth and nose and contain the user's respiratory secretions. This mask can be reused after washing. Do not use chemicals or bleach to wash. Air dry preferred. This mask is not a medical device. It is not personal protective equipment. It is not a liquid barrier protection or a respiratory device, and does not protect against high risk aerosols or provide particulate filtration. It should not be used by healthcare or medical professionals or used in a healthcare, medical, or clinical environment. N.B: No returns or exchanges due to hygiene and safety. Masks are not suitable for medical use.